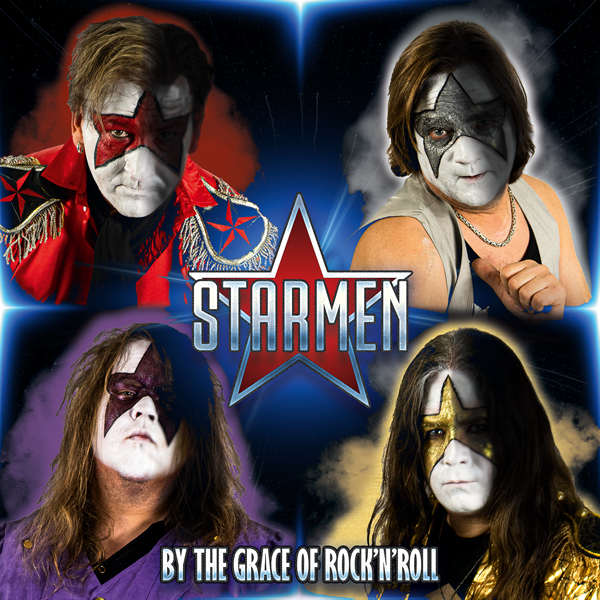 24 augusti 2020 får jag en förfrågan från den röda stjärnan i Starmen – Kristian Hermanson – om att ansluta mig till bandet som nya Starman Gold. Strax därefter svarar jag ja, rakar jag skägget, sminkar mig och spelar in musikvideor och fotas tillsammans med övriga stjärngossar till vad som ska bli bandets tredje platta.
"By the Grace of Rock'n'Roll" är titeln som ges ut av Melodic Passion Records och Sound Pollution, men även i Japan av Marquee Avalon. Vi behövde få fram omslagsbild för albumet, samt tre singelomslag. I Japan skulle man dessutom ha ett annat omslag och en tidigare outgiven bonuslåt.
Jag fick en kreativ boost i detta färgsprakande projekt och tog fram omslag, delvis baserat på Kristians idéer, men även några egna små tankar blev verklighet.
Dessutom dammade Kristian och jag av min gamla ofärdiga demolåt "Kisses of an Enemy" som vi spelade in till plattan och som jag sjunger solo på.

Tillsammans med Starman Purple, eller Andreas Lindgren, skrev jag låten Ghosts, som bara osar Yngwie Malmsteen och som bara finns med på den japanska versionen av plattan. Så hojta gärna om du kommer över ett ex av den!
Och här finns hemsidan, som jag också gjorde i samband med årsskiftet 2020-2021: starmen.se